Tilt-up Panels Overview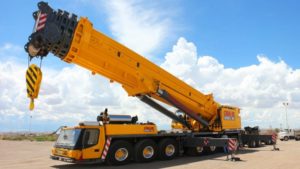 Setting and installation of concrete tilt-up panels is one of the many projects our cranes are used for. We have many different cranes that could accommodate this project but the
Grove GMK 7550 (550 Ton)
 is a great fit for this particular construction project. Interesting enough these concrete panel are made onsite by using forms and other construction material. Once the concrete has hardened and the engineers give their approval it's time to start erecting the building. Once the crane is onsite the real magic happens, it's amazing to see how fast the building is erected.
Client and Location
This job site is located in
North Birmingham, Alabama
for one of our prominent customers who requested to remain anonymous for this article. This location in Birmingham, Alabama was an easy location for us to deliver to, allowing us to provide a very rapid delivery time.
Job Site Specifics
Our client is experiencing growth in their operations so they reached out to us for assistance in this crucial and time sensitive project. Therefore, we made the
Grove GMK 7550 (550 Ton)
our crane of choice to accommodate them on this office expansion project. With the cranes excellent mobility for both on and off-road applications, the project was executed flawlessly and in a timely manner resulting in a very satisfied customer.
Tilt-up Panel Details
The tilt-up panels in this office expansion project weigh in around 70,000 lbs. These were set at a 95 foot radius. See our gallery @ 
http://cranes.grplantmaint.com/cranes/precast-product-setting/